There are many orthodontic options available to straighten teeth. Two of the most popular options are Invisalign clear aligners and braces. Deciding which orthodontic treatment is best for you depends on many factors. Every option has advantages and disadvantages. By exploring the differences between braces and Invisalign, you will understand which treatment may be right for you!
What are the Differences Between Invisalign and Braces?
Although there are many differences between Invisalign and braces, both are great options for straightening teeth and improving oral health. 
At Lazzara Orthodontics, we use braces with a discreet appearance that provide a more comfortable overall experience. Our braces are fabricated in the US from surgical grade materials, and the technology built into the braces allow extraordinary accuracy and precision in moving teeth. 
Invisalign uses a different approach to alignment. The aligner system is made up of smooth plastic aligner trays that hug your teeth. By wearing the aligner system 20-22 hour a day, and changing your aligner every few days, your teeth gradually align into a more natural position. 
Dr. Lazzara was one of the first adopters of Invisalign in the country, and has been using it to help his patients since 1999. He has helped thousands of residents of the Jacksonville Beach and Ponte Vedra/Nocatee area get head-turning results. When you trust Dr. Lazzara with your aligner therapy, you can be confident that you are gaining insight from a seasoned professional who understands how to improve your smile.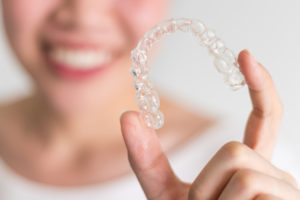 Pros and Cons of Invisalign
Perhaps the two biggest benefits of Invisalign are that they are removable, and nearly invisible. Many patients prefer Invisalign over braces because they do not feel insecure about noticeable brackets when they smile. Patients also have the freedom to remove their clear aligners to brush their teeth, eat, or drink. Since they are smooth and fitted to each patient's mouth, they do not overly irritate the gums or cheeks. 
Still, Invisalign cannot solve every issue. While Invisalign is an excellent option for certain problems, other problems may be best addressed with conventional braces.  Dr. Lazzara can help determine the best choice for you.
Pros and Cons of Braces
Braces are more suitable for more complex cases that require more intensive correction, and cases with more complex bite issues. In some cases, braces deliver quicker results for closing gaps than Invisalign.  The biggest advantage of braces is simplicity. With braces, Dr. Lazzara stays in control of treatment throughout the process. You don't have to worry about wearing your aligners for 20+ hours per day, or stress over losing your aligners.
However, braces do have some disadvantages. Metal brackets can irritate gums and feel more cumbersome than Invisalign aligners. Braces may also cause some discomfort associated with treatment, especially after check-ups. Also, patients may find eating certain sticky or hard foods more difficult.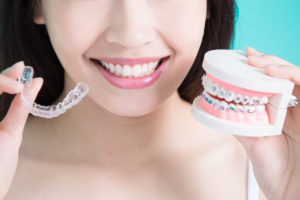 Which is Better: Braces or Invisalign?
It's impossible to say which option is best for you without a thorough consultation. But considerations like condition, time, affordability, and outward appearance may affect your decision. 
Generally speaking, both options will be able to straighten your teeth and provide you with the smile you've always wanted. When you come in for your free consultation, the experts at Lazzara Orthodontics will advise you on what options make sense for your lifestyle.
Schedule Your Initial Consultation!
Ready to start your journey to a straighter smile? Schedule an appointment online and visit us at either our Jacksonville Beach or Ponte Vedra/Nocatee locations. Our award-winning team has helped many Floridians achieve the smile they have always wanted. 
Book your appointment to discover how you can start your journey to a better smile at Lazzara Orthodontics.